This past year has been incredibly for movies, so it's not surprise that so many people tuned in to watch the Oscars last night. With Seth MacFarlane hosting, the entire show seemed much more lighthearted than previous years-- but don't expect that to be echoed in the fashion on the red carpet. This year the fashion was fierce-- it was all about pale nude pallets, metallic hues, and the occasional pop of red for both the ceremony and the after parties.
Here are some of my favorites of the night!
Amanda Seyfried looked stunning on the red carpet in this high collared halter gown from Alexander McQueen. Her messy updo and minimal make up with her pop of purple for the eye shadow was perfect for the night!
I loved that Amanda kept the red Givenchy gown on following her Les Mis performance during the show. The pop of color was beautiful!
Olivia Munn added to the pop of red for the ceremony in this amazing Marchesa gown. Her minimal accesories and swept up up-do made her a stand-out on the carpet! Olivia continued to stun at the Vanity Fair after party, joining the nude hue bandwagon in this amazing Atelier Versace number. Daring, but she pulls it off!
Naomi Watts had easily my most favorite look last night. This custom made sequined Giorgio Armani dress was a beautiful surprise to on the red carpet, and paired with her messy updo, she looked fresh and flawless.
Naomi continued to AMAZE in her sequined metallic hues in this one sleeved Armani Prive gown at the Vanity Fair after party. Her soft make up and blonde messy updo, revamped from the earllier cermony, has me convinced we have a contender for best dressed on about every list out there!
I loved the hue of Anne Hathaway's Prada dress, and the necklace she chose was stunning, but it appears the dress isn't sized as well as it could have been, with the darting's hitting her at an unfortunate spot. Seems Oscar didn't care much though, as she walked away with the award for best supporting actress!

I wish Anne Hathway had kept this Giorgio Armani dress on for the entire show! The tiered skirt and jeweled silk mesh fabric was so stunning on stage.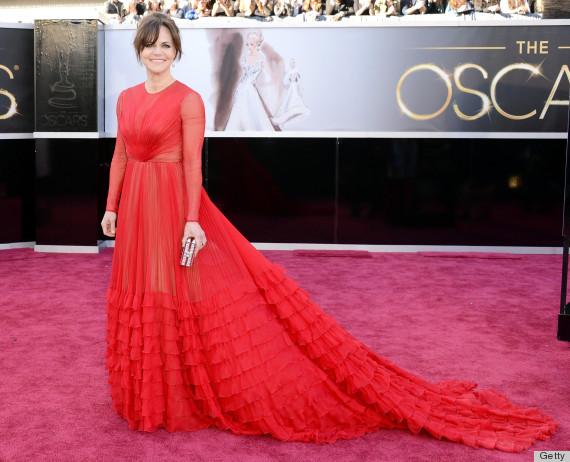 Sally Field looked absolutely regal in this Valentino number
Although she may not have gone home with the gold, I'm sure Amy Adams will be showing up as a winner on a few Best Dressed lists! She was beautiful at both the ceremony and the after party, in two shimmering Oscar de la Renta gowns.

Halle Berry looked amazing in this metallic Versace dress. The angular shoulders look great with her hair light and teased up!
Charlize Theron was flawless in this white Dior Haute Couture gown. The deep v and peplum accented waist is stunning and so classy and sophisticated.
Jennifer started it off right, looking like a princess in this amazing fit and flare Christian Dior couture gown
Jennifer Lawrence gave her new statue a run for it's money in this amazing silver Calvin Klein Dress at the Vanity Fair after party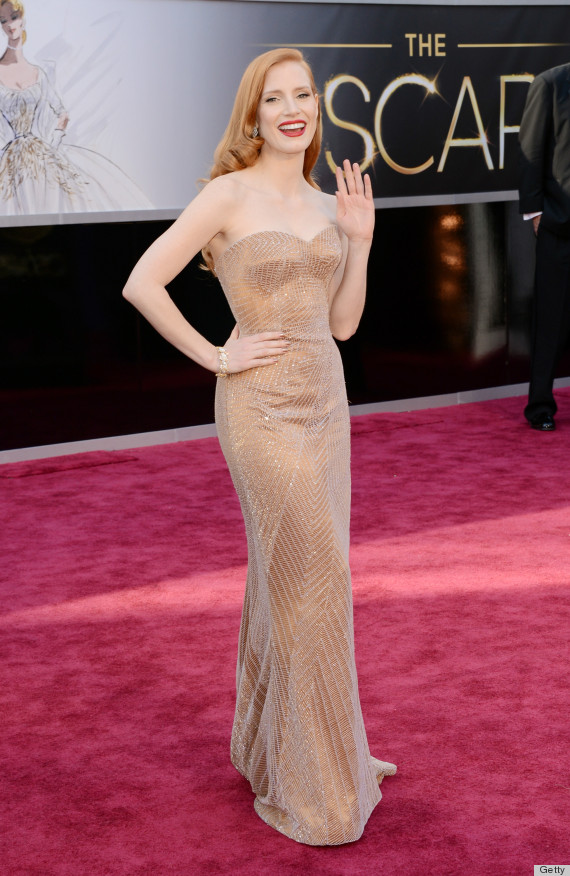 Jessica Chastains Armani Prive gown was a beautiful modern take on old Hollywood glam. Paired with her Veronica Lake inspired waves, this look was perfect for the awards!
xo Bonnie