Two of my favorite things of all time: going to the movies and being outside in beautiful weather. When there's an opportunity to combine them, all the better. Lucky for you and me, different venues all over Philadelphia offer just that, movies under the stars.
Fun for the whole family:
The
Schuylkill Banks Movie Nigh
t is a summer series presented by CSX. Bring a blanket, and get there early (movies starts at dusk, 7:45/8:30) for free snacks.
June 14, 2012:
The Muppets
June 28, 2012:
King Kong (1933 version)
July 12, 2012:
Footloose (1984 version)
July 26, 2012:
O Brother, Where Art Thou?
August 9, 2012:
The Incredibles
August 23, 2012:
Moneyball
Perfect for date night:
Last June, I went with friends to
Bistro La Minette
for their summer movie series, "Dinner and French Movies Al Fresco". Hidden behind this lovely french restaurant, is a small courtyard where they show French films with English subtitles. Seats are limited, so reservations are a must. It was one of my all-time favorite things I did last summer! It's not to be missed!
For those of you who may not want to travel too far, why not host your own movie under the stars with your very own i
nflatable outdoor movie screen
? Invite your friends over for some BBQ, sit back, and watch your favorite films projected on to your own big screen. Just know, I want an invite.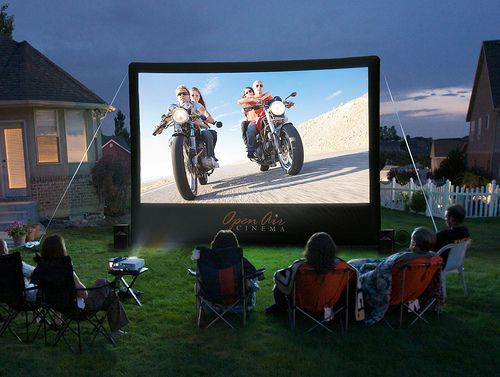 Don't worry, I'll bring the popcorn.
XX,
Arielle